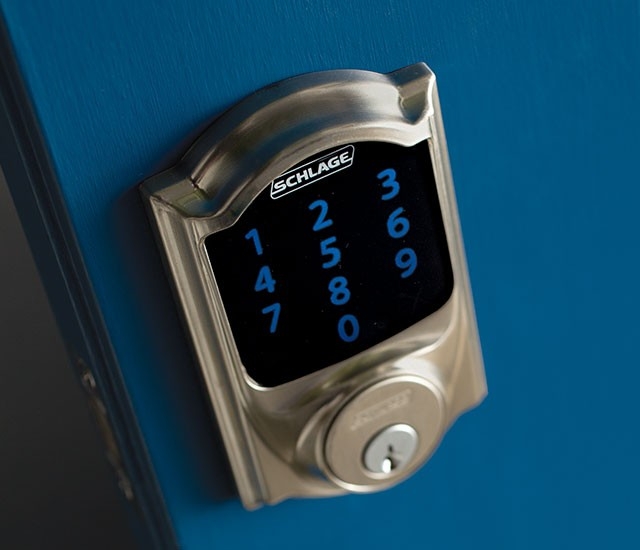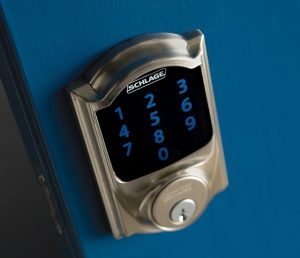 Schlage's connected locks combine the advanced features you expect out of a high-quality Schlage product with the ability to synchronize with your home automation system.  The result is a state-of-the-art door lock, allowing you to control access to your home, no matter where you are.
Schlage's connected locks are fully programmable with your smartphone, when paired with a home automation or alarm system.  It's easily customizable to fit your security needs, with remote notification allowing you to know when someone has entered or exited your home.  It can notify you if the door knob or lever has been disturbed, helping to prevent lock tampering.  You can also be instantly notified with significant force pushes against your door, helping protect against break-ins.  With Schlage Connect, you're given up-to-the-minute information about the security of your home.
Schlage's connected laws also boast their keyless access technology.  Complete with a fingerprint-resistant touchscreen, they help with both remote monitoring and at-door privacy.  With memory to store codes for 30 different users, you can allow friends, family members and service providers to access your home, each with their own unique passcode – no more messing around with spare keys!  If there's someone who needs access for a limited time, you can set them a temporary passcode, and remove it later, thorough a simple smartphone interface.
Schlage's locks meet the highest standard for durability and safety.  They install in minutes with just a screwdriver.  They're available in a variety of Schlage's decorative styles, including Camelot and Century.  They're a great addition to your home security.
GTA Lockman is proud to offer the complete range of Schlage locks and security accessories to all of our clients in the Greater Toronto Area.  From touchscreens to Bluetooth, keypads to keyless entry, we have a lock that will fit your needs.
With a wide selection of both technology and style options available, you can count on a Schlage lock to meet all of your security needs.