The Wireless Keypad provides trusted, convenient walk-in access without using a remote control or key, call today for a free quote.
Wireless Garage Door Opener Keypad
In concern for safety, many people have installed keypads on their garage doors. 
This is an extra measure to protect the contents of the garage as well as prevents access to the home. 
When a keypad doesn't function properly, it is more than an inconvenience. 
That is why GTA LockMan Mobile Locksmith & Door service is ready to help. 

We understand the importance of this security measure and are happy to help you keep it in good working order. 
Our garage door keypad service can help you change the code or fix the problem.
Program up to 4 doors
Personalized 4-digit access code
No wires needed
YES, I want a free quote!
Garage door keypad repair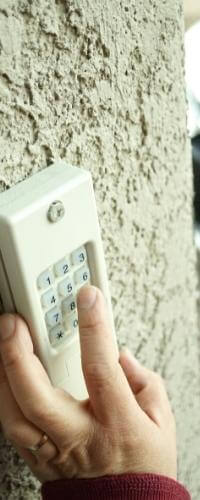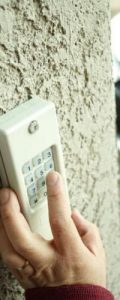 There can be a number of possible causes for your garage door keypad not working.  Before we dispatch a repair person, we will ask if you have changed the batteries in the keypad and/or remote. 
It could also be a simple matter of reprogramming your pin. 
We are happy to talk you through these steps. 
If you are still having difficulties, we will send a service representative to your home to help resume good operation. 
We will perform a number of tests to determine the cause of the problem and then resolve it for you.  From wiring to code service, we are experts with garage door keypads.
Most keypads can be repaired unless the board is damaged.  This happens because the unit is exposed to the elements day and night and year after year. 
If repair is not an option, we stock a supply of new keypad options. 
We can replace the bad garage door keypad with a new model, or discuss upgrades and new features available. 
Garage door keypad installation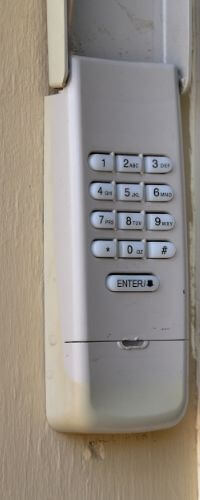 If you don't currently have a keypad installed, but are thinking about adding this measure of safety, contact our office. 
We will be happy to discuss all of the possibilities and help you decide on the best choice for your needs. 
We will then install a garage door keypad and provide instructions on its operation.  So, if you need garage door opener keypad installation or some repairs, just call.
We install wireless garage door keypads for many brands:
Genie
Craftsman
LiftMaster
Chamberlain
and more