Washing Machine Locks Replacement and Repair
GTA Lockman is your one-stop shop for all lock replacements and repairs.
For example, we can help repair the washing machine coin-box lock and replace the laundry coin-box lock.
In addition, we will gladly furnish you with a lost laundry machine key in an emergency.
Locksmith Solution for Laundromat
It is sometimes best to equip the machines with new locks or coin boxes using a different code for laundry services with older equipment.
Still, a washing machine lock differs from your house or car keys. 
The locks in your coin laundry industry come with restricted pathways, and you will need a professional washing machine locksmith to handle your replacement or repairs.
Furthermore, the model or serial numbers have no relationship to your key code. 
The codes you have might not be the original and different from the lock received when the equipment was new.
Hence, obtaining a replacement key is impossible without the correct code, and we must replace the locks.
Your Emergency Laundromat Locksmith

For your laundromat coin box lock and key replacements to repairs, GTA Lockman provides same-day service to keep your business going.
We provide fast locksmith services with our licensed and trained locksmiths. 
Our locksmith trucks provide all with a mobile locksmith service to give you the security you need, whether it is a home, business, or car lockout.
With our specialized services, you can feel assured that our team will be by you quickly to help with your lock needs. 
No matter your lock concerns, our team at GTA Lockman is on call 24/7.
So do not allow a damaged washing machine coin-box lock to prevent you from providing a service.
Contact the Laundry machine key specialist now to help!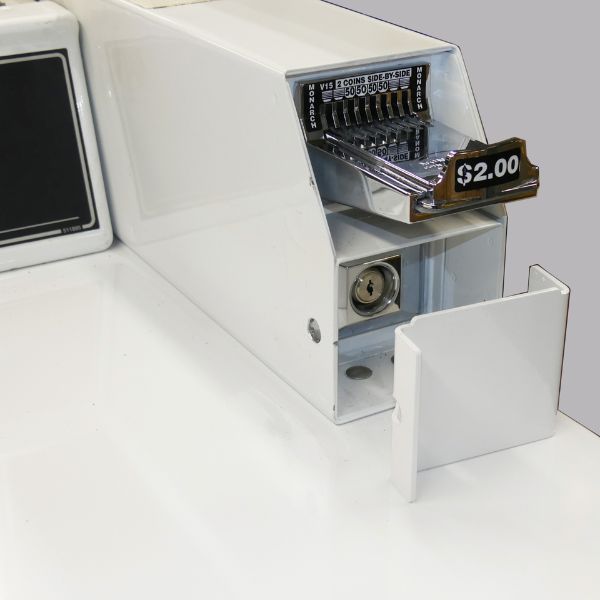 sophie risman
Sol did such a great job and has really left a great impression on our office. He delivered the service quickly and is also very kind and understanding. We have had issues with other locksmiths in the past, and we were very pleased with Sol's work. He takes his time and makes sure everything is done how we like. I would definitely recommend him to anyone in the area.
Andrew Goss
Great experience today with GTA Lockman. I got a call to say Sol was on his way and he completed the necessary work of replacing the front lock lock quickly, professionally and at a fair price - all within a few hours of my call. Sol was friendly, polite and explained the benefits of the lock and how it worked clearly. I would highly recommend this company.
Kevin Johnson
Sol, came and delivered the service the quickest and was understanding of my circumstances. I really appreciated him coming within 15 minutes of calling him. I would absolutely refer him to anyone that is in a quick pinch and needs the help. The pricing he gave me in additional to the service he provided while being friendly and customer oriented and understanding was exceptional. 10/10 Would recommend to anyone I know!
lisa
Sol from GTA Lockman was wonderful. He provided helpful info and changed locks for my home . He was professional and couteous. Thank you so much for the excellent service Sol!!!!!!
Fully licensed, bonded and insured