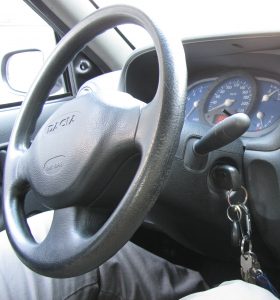 There is nothing more frustrating than having the door slam behind you, only to realize that your keys are trapped inside.  Whether it's leaving your house to check the mail or parking your car at work, suddenly and unexpectedly losing access to your home or car can ruin your day.
This is where a 24/7 emergency lockout service, like the one at the GTA Lockman, comes in handy.  No matter where you are, no matter when your crisis happens, our mobile locksmiths will come to you and get you out of your jam quickly and painlessly.
We service the entire Greater Toronto Area, so no matter where you are when you find yourself locked out, we're the trustworthy name you can count on.
A professional lockout service will come to you.  You should expect an immediate response and fast service – a good locksmith will realize that your time is crucial, and time spent waiting around for a locksmith is time you could be getting on with your day.
When the technician arrives on site, the first thing they will do is assess the situation, and determine what steps need to be taken.  Generally speaking, the tools and techniques professional locksmiths use will gain you access to your car or home without causing damage.  Using specialized tools, or techniques known as "lock bumping", the technician should be able to quickly gain access.  Some locks take a longer time than others, and you should expect your technician to give you an estimate of the time they'll need to gain access upfront.
On rare occasions – complicated auto lockouts with deadlocks and keys in the trunk, for example – it may be necessary for the locksmith to drill a small hole to gain access; these cases are rare, result in very minimal damage and would be communicated up front so you have all the facts going in.
You should expect your lockout service to be calm and professional – they know that this is a stressful situation for you, and will serve you with the highest level of professionalism.  The lockout service at GTA Lockman is second to none, and will get you back in your home or car, and back into the flow of everyday life.