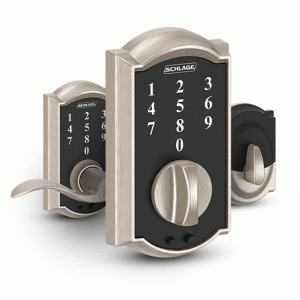 We've all done it.  We've all locked ourselves out of our home, or left our keys somewhere else when returning.  We've fumbled for keys in our pocket, dropped them in the rain and snow, and lost them at the bottom of a purse or bag.  Let's face it – while they're an important security device, keys can be inconvenient even at the best of times.
Schlage keyless locks help solve these problems.  Going keyless means opening yourself up to the simplest, smartest way to secure your home.
Schlage's keyless locks work with a keypad, like an ATM.  Each person who has access to your own has their own unique passcode, allowing them to come and go without keys.  No keys means there's nothing to lose.  No keys means there's no cylinder for potential burglars to pick.  It's a safe and secure way to control access to your home.
Schlage keyless locks are easy to install – no special hardware required.  They boast a two-year battery life, with an emergency battery backup, as well, so they're reliable.  The touchscreens are fingerprint resistant, meaning that they'll continue to look sharp and elegant for years after installation.  They're incredibly simple to use.
Schlage's Connect and Sense options come with built-in alarm sensors, giving you additional protection from break-ins at the door.  They're also Bluetooth compatible, opening up a wide range of security options.  Use your smartphone or tablet to program your lock, controlling access even when you're not at home.  Get remote notifications when someone goes in or out of your home, all with the reliability and durability the Schlage name brings with it.
The GTA Lockman is proud to offer the complete range of Schlage keyless entry locks and deadbolts.  No matter what your budget, we have a lock that can fit your needs.  Upgrade your security today and sleep better tomorrow.