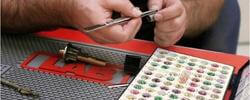 There's an inherent contradiction in security needs for owners of businesses or managers of apartment complex.
They need to be able to access all of the apartments or offices in their complex at all times, so they need a key that works on all locks.
On the other hand, tenants need to be able to lock their own space and not be able to access anyone else's space.  A universal key would be great for the landlord, but a massive security flaw for the tenants.
Individual keys are great for the tenants, but can be a massive hassle for landlords.
There is a solution, however.  A trained locksmith, like the experts at GTA Lockman, can rekey the entire complex, installing a master key system.  It's the best of both worlds – it gives the owner access to all units, and preserves individual privacy for the tenants.
How does it work?  While there are a number of different systems, for standard pin-tumbler locks, you essentially have two keys that work.
There are multiple shear lines in the lock cylinder.  Each lock has its own unique shear line, meaning that each tenant's individual key will work on that lock and that lock alone.
They also, however, have a common shear line – one pattern that will work on every lock in the set.  That's for the master key, and that's what allows the landlord to have one key that will work in all locks.
Smart Door Lock Installation And Service
Landlords do have other options – they could install electronic keypad locks with their own master combination on all locks, for example.  Master keying, however, is simple, quick and comparatively inexpensive – and certainly easier than trying to keep track of dozens of keys!
The experts at GTA Lockman will ensure that your master rekeying goes smoothly.  Contact us today, and we'll help shore up your security!