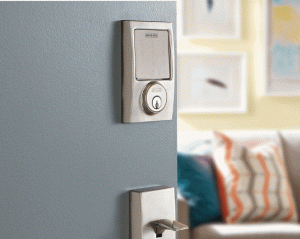 Schlage is one of the most trusted names in home security.  Founded in 1920 in San Francisco, Schlage remains one of the most popular brands of consumer and commercial locks in the United States.  With a wide selection of stylish, top-grade products, Schlage has a solution for all of your door hardware needs.
Schlage offers a range of deadbolts, knobs, levers and handlesets, coming in at a variety of different price points with numerous options and features to choose from.   Schlage technology includes Bluetooth-enabled hardware, touchscreens, keypads and a wide variety of connected devices, bringing your home security into the 21st century.
Schlage touchscreen locks are durable and fingerprint-resistant; perfect for adding both security and convenience to your door hardware.  When coupled with Schlage's Connect technology, you're able to manage your door's security from anywhere, if paired with a compatible home automation or security system.
Schlage's Sense Smart deadbolts are designed to work with Bluetooth technology, allowing you to use your smartphone or tablet to lock or unlock your door remotely, and set up different passcodes for friends and family to use to access your home.  The convenience is practically unmatched.
Schlage's keypads mean you'll never have to worry about forgetting your keys again.  Able to hold over a dozen unique access codes, these keypad locks allow you to lock and leave your home without the need of a key.  There are no wires and no special hardware required – they'll work on any standard door.
The GTA Lockman is proud to offer the complete range of Schlage locks and deadbolt hardware to all of our customers here in the Greater Toronto Area.  From touchscreens to Bluetooth, keypads to keyless entry, we have a lock that will fit your needs.
With a wide selection of both technology and style options available, you can count on a Schlage lock to meet all of your security needs.