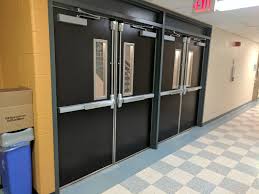 A panic bar is an oft-overlooked piece of door hardware that might be worth considering adding to your business.
Sometimes called a crash bar or push bar, a panic bar is a door locking device that is essentially a spring-loaded metal bar, attached horizontally on the inside of your exit door, about 40 inches from the bottom.  When it is pushed, the latch releases, and the door opens outward.
It's designed for use in emergencies and other stressful situations – it allows for a door to be opened quickly and easily when panicked users press against it.  Doors that open inward can be dangerous in crisis situations, because a crowd may not be able to open it – a panic bar, placed on a door that opens outwards, allows for quick and easy exits.
Panic bars are typically not a good idea on two-way doors; they obviously can only work from the side that opens out.  That does, however, make them a perfect choice for emergency exits and fire doors – doors that you don't want people to enter from the outside, but need people to be able to quickly use in an emergency.  That's why they're mandated on emergency exits – it's a safety feature.
Should you use panic bars on non-emergency doors?  There are certainly reasons to consider them.  A panic bar on the inside of your doors make them easier to use.  It can be easier for people less physically capable of using levers and doorknobs to push a panic bar – hence why you see them so frequently in hospitals and nursing homes.
With professional installation, panic bars can be tied in to your security system, as well, setting off alarms whenever they're used.  They're a great addition to the security of your place of business, especially if it's commonly open to the public.  Consider panic bars the next time you're upgrading your door hardware!